When it comes to website design, the options are practically limitless – after all, web design inspiration is everywhere.
It sure feels overwhelming, especially if you're not a graphic design professional.
With that in mind, here is a little website design inspiration to help you overcome designer's block and create a truly stunning website.
The best website designs, for example:
Utilize whitespace
Understand current web standards
Make your site mobile-responsive
Design around your content
A/B test
Use fancy forms
Communicate your brand identity through your design
Have a strong hero section and headline
Help visitors navigate through your website
… and much more 🔥
Take our 26 must-know website design ideas and concepts and run with them, especially if you haven't updated your website in a year (or two, we know you're busy).
Give your traffic and conversion rates a lofty boost.
1. Utilize negative space
Negative space (or whitespace) refers to the areas in-between design elements. Increasing the amount of empty space gives a page a spacious, uncluttered aesthetic.
Studies show that an increased amount of additional space on a page also increases user comprehension. Far from being a waste of pixels, using a large amount of empty space can actually highlight essential aspects of your web design by drawing the eye to a call-to-action such as an email address sign-up.
2. Use web standards
Web standards are sets of formal rules that regulate how we should design websites.
These regulations are developed by the World Wide Web Consortium to ensure that all websites are accessible to everyone, regardless of the device they use.
By sticking to these standards, you can save a lot of time in your process and ensure your website will be compatible with current and future web browser versions.
If you're not sure how to abide by these rules, Zyro has got you covered.
Our site builder will deliver a standard-compliant design without the need for coding experience. You can rest assured that your site will look great to all of your visitors.
3. Apply mobile-first design
Using the mobile-first approach in web design prioritizes the mobile version of a website, instead of just considering its desktop counterpart.
Mobile pages throw up more restraints, which is actually good for ensuring minimalism in your design process. Since you have to deal with less screen real estate, you are pushed to only include the most important website elements.
These components usually work on the desktop version as well, with little to no additional adjustments.
Even if designing for mobile is challenging initially, your work from then on will be much simpler. Sounds convenient, doesn't it?
As mobile users outnumber desktop users, the demand for high-quality mobile web content is also increasing.
By going mobile-first, you're actually giving the best experience for the majority of your potential customers.
With Zyro, you can implement this approach with only a few clicks. Using the page editor allows you to work on desktop, tablet, or mobile phone versions of your website on the fly.
It is important to note that if you decide to start with mobile, the design is guaranteed to be responsive across all devices.
4. Design around your content
Content is the heart of your website, and it's the main reason your visitors will keep coming back.
Start by deciding which content you want to display.
Do you want to create a blog? Perhaps a photography portfolio? Or do you want to create a landing page for your business?
Let's say you want to showcase the main features of your product. You can use the cards design pattern and appropriate icons to catch your visitor's attention and highlight those points.
5. Carry out A/B testing
A/B testing (also known as split testing) compares two versions of your page.
Testing aims to determine which design has the greater appeal, features improved user engagement, and a lower bounce rate.
A/B testing will provide you with data-driven results you can use to improve your web design. You'll no longer have to guess what people might like to see on your page.
We suggest that you perform A/B testing when you expect more than 1,000 visitors per week. Traffic lower than this is likely to give you statistically insignificant or dubious data.
Also, keep in mind that an ideal test should take about two weeks to complete. This way, you will have more feedback on your tested pages, which gives you more valid results.
6. Try a minimalistic approach
Minimalism is one of the best web design ideas that you can follow right now. More to the point, it is one of the biggest trends of the 21st century, from interior design to graphic design, and across the world of style, more and more people are finding inspiration in the idea that less is more.
In terms of website design, minimalism encourages you to generate your website design ideas from the core messaging of your brand or product. It then asks designers to build a site that communicates those concepts with simplicity and functionality to ensure maximal engagement.
You can actually highlight important content and call-to-action buttons with a minimalistic interface – perhaps this is the email address signup and nothing more. Your visitors will have a more compelling user experience since there are no significant distractions.
A minimalistic website is usually responsive and quick to load. By having a minimalist design, you'll have a clean and modern site appealing to both your visitors and search engines.
7. Make a one-page website
A straightforward approach to great-looking web design is to create a one-page website.
One-page websites have become more popular recently, as it makes web designers' jobs much easier while maintaining visual impact.
One-page websites push you to be more creative and efficient with the given space. Presented with the challenge of placing all the essential details in the same scrollable location, a designer will work creatively to accomplish something different.
To illustrate, take a look at Zyro's Bed and Breakfast template.
All details about the lodging, from amenities to customer reviews, are presented in one place. This way, visitors don't have to jump between pages to find the information they need.
Other fantastic examples of single-page websites include Purple Orange PR, Android KitKat, and For The Record.
8. Try oversize fonts
In 2022, web design seems to be favoring oversized, striking elements as a source of inspiration.
While this might seem at odds with other trends such as minimalism – clear and obvious communication of one crucial element on an otherwise uncluttered page could be very effective.
Not only are such aspects visually impressive, but they also waste no time in letting the user know exactly what your website is about.
Take care when employing this tactic in your web design plans as having too many bold elements on a page can quickly become overwhelming.
9. Make it playful
Illustrations, animations, striking color palettes, and creative infographics are making serious waves in modern web design.
Fun and friendly websites work well when a business is trying to draw the user into a more interactive online experience.
Take inspiration from Domino's Pizza – the popular fast-food restaurant features a virtual "pizza-tracker" for online take-out orders. It keeps customers engaged while waiting for the product and makes customers less likely to complain about orders because they can track the progress in real-time.
This idea is very common on websites where a business wants to come across as communicative, open, and accessible.
10. Employ visual inspiration
More and more websites are employing videos, full-screen images, and 3-D digital artworks on their homepages.
As websites are getting faster, and coding possibilities are expanding exponentially, there is an opportunity to do more with your website than ever before.
Using complex 3-D renders, or flooding your page with video that loads instantly, is a sure-fire way to get someone's attention.
After all, it is going to be hard to argue with the pedigree of your brand when your website can do things that others simply cannot.
Websites of this kind often take inspiration from the world of digital art and are a standard feature of art gallery and exhibition websites.
11. Keep it moving
While this is nothing new – video and animation have been a staple of effective web design for years now – it is definitely worth repeating.
Motion of any kind will always catch the eye of a user. If your website can employ moving elements correctly, you can essentially control how visitors to your website understand the page.
Moving elements are so common in all areas of web design for precisely this reason. While it would be hard to give one specific source of inspiration – consider the prevalence of micro-animations such as those we see when a video is buffering, or an element is loading.
These small movements can provide instant feedback to a user as they interact with your website. As with all elements of this kind, use it strategically as the line between inspiration and frustration can be perilously thin if everything is moving all at once.
12. Fancy forms
The big idea for web design in 2022 has been clean, spacious websites with great use of negative space that identify one core element often presented in an oversize or full-screen format.
No one would deny that forms are among the more tedious and utilitarian design elements on a website. But, that doesn't diminish the importance of getting a user's email on file.
Whatever your product, the chances are that you will need someone's email to fulfill the service or promote your own. Just because forms are essential doesn't mean that they have to be purely pragmatic.
Simple design ideas such as expanding the form to full-screen can make it more appealing to interact with and improve UX.
13. Check the competition
Whether you are a beginner or a professional, getting inspired by other website designs can jumpstart your web development project. Pinterest, Awwwards, Behance, and Dribbble are all great options.
Pinterest is a convenient place to find inspiration. It is essentially an endless collection of mood boards, a tool used in web design, graphic design, interior design, and many other niches to collate sources of inspiration.
Awwwards is well worth checking out. It features collections of website designs where you can find ideas from the best mobile sites, best developers, and best graphic design.
Behance is a website where designers showcase their portfolios in photography, graphic design, and web design. It is a great place to find web design inspiration.
Finally, Dribbble is also perfect for discovering website design ideas. It showcases beautiful templates that are a constant source of web design inspiration.
14. Communicate your brand identity
Your web design should always aim to communicate what your business or brand stands for and represents on all web pages.
This means that all website visitors should know the moment they land on your website homepage who you are and what your brand does.
In web design terms, your homepage design should follow general brand guidelines. Elements like your logo, slogan, chosen imagery, and overall values should be clear from the overall look of your site's design.
Ask for visual feedback from your team or an external design agency, if you're not sure the site visitors have a crystal clear understanding of your brand.
15. Focus on your value proposition
Your new website should clearly communicate its main value proposition the moment a visitor arrives on your website.
No matter the different design styles, the best web design ideas revolve around the brand itself.
Is your business all about making an environmentally friendly impact on the world? Introduce this angle to your slogan, hero sections, and the overall color scheme of your site.
Unsure how to get started? Dot down adjectives and principles that you want your site's brand identity to represent, and look for design patterns that embody those ideas the best.
16. Have a strong and clear headline
Looking for some solid web design inspiration?
Make sure your headlines are on point. Intercom, for instance, is an excellent example of what we mean:
The headline not just explains what the brand is selling (a business messenger), but it also proposes that the product is something that both the business customer and their customers will love using.
Or take Beamer as your point of call for headline design inspiration:
Beamer's headline, similar to Intercom's, not just tells the user what the service is all about (informing users about new features and updates to your SaaS software), but also communicates the proposed value the service will have for its users (effortless user updating process).
17. Don't be confusing
There are so many websites out there that do a great job of utterly confusing the visitors.
Whether it's unclear information on product pages or stock images that don't actually reflect what your brand does, always review the content of your site with a critical eye.
Ask yourself questions like:
Does this content help the user make a buying decision?
Is this piece of content or page misleading in any shape or form?
Is a sentence, headline, or button CTA clear enough to someone who has no idea what your brand or site is about?
Help your visitors by linking them to related content and making sure all page and article titles clearly represent what the page or article is actually about.
While you might love an elaborate portfolio page that showcases your best work, if it's not relevant to the rest of your website, it's probably going to be confusing to the end-user.
18. Everything important above the fold
The fold is the part of your website that loads in the browser first, typically taking up the browser window screen.
You want to create and showcase all the most important content in this section so that users can see your main offer or selling proposition the moment they land on your site.
Check out these web designs for ultimate web design inspiration when it comes to utilizing the entire screen of your above-fold section:
See how both Mailchimp and Apple use a big visual demonstrating their product, accompanied by a catchy headline and a call to action section with two buttons?
The user doesn't have to scroll down the page and read walls upon walls of text to find what they are looking for. Instead, both Mailchimp and Apple prompt the user to learn more about the product in question or compare the pricing options.
19. Use strategic call to actions
Sometimes, when you're looking for web design inspiration, you might fall head over heels in love with a particular digital design – but the design might not actually work for your website.
Why?
Firstly, make sure your site has call to actions, or sections that prompt the user to take an action that you desire them to take. This could be a newsletter signup, a demo booking, or a scheduled call with your sales team.
Once you have identified the actions you want the user to take, think strategically about where to place your call to action buttons and sections. It's worth testing different possibilities out in order to understand the best option for your website.
20. Make color your friend
Unless your website was originally published in the 90s, you really should think about the color scheme you're using on your site.
When it comes to web design inspiration, the world's most renowned web designs rely on colors that complement each other, and the brand's overall mission and values.
Start by understanding how color theory works and how colors can affect the human psyche. Think about the emotions and connotations different colors have, and how they work together with your brand's overall message and main selling proposition.
21. Top-notch illustrations over stock images
Nothing screams dull and uninteresting more than overused stock images on your website – believe it or not, but users can easily identify that tired picture of a woman sitting by their laptop.
Chances are a dozen other websites are using it on their landing pages.
While stock pictures have their time and place, you are usually better off investing in high-quality illustrations when it comes to the main imagery of your site.
You'll look unique and put together, and able to build on your brand image further.
22. Show them where to go
The worst thing you could do for your prospective customers is to make your new website complicated to navigate.
Not only will you lose out on the sales, but the more people leave your corporate website (or 'bounce'), the worse off your SEO will be.
As design trends go, fool-proof and streamlined navigation is the key to ensuring your web traffic converts.
That means having a simple menu structure, using breadcrumbs in your page navigation, and not having too many sub-pages under a particular menu item. You can even add a search bar for maximum signposting.
23. Invest in strong hero sections
As digital design goes, there are some essential elements that you should never overlook – and your hero section is one of them.
The top of your page is the top real estate of your website, so make sure it's doing the heavy lifting.
Your hero section should:
Have compelling content
Draw the visitor in
Follow responsive design principles
Encourage the visitor to take action or keep scrolling
24. Make simple shapes do the work
One of the great web design ideas revolves around seemingly simple shapes.
But don't let that fool you – when it comes to creative touches, you usually don't need to reinvent the wheel.
While other features that are more complex might look impressive, you can get by with very simple elements when you use them effectively.
25. Consider using subtle animations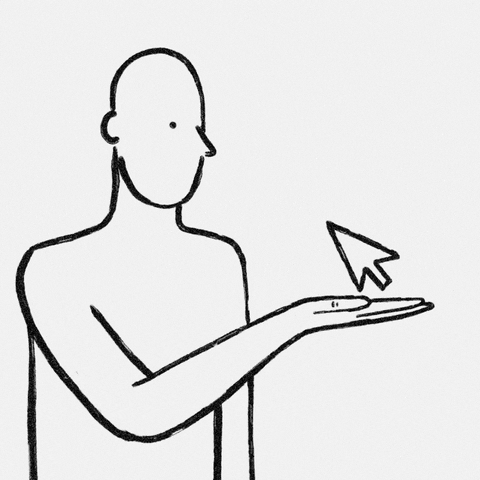 Who doesn't love a whacky cursor animation?
While small animations aren't that difficult to execute, they make your site look cutting edge and your brand tech-savvy.
Adding that special something to your loading screens and menu mouse clicks makes the whole site experience much more immersive to the user, making them want to stay around for more.
26. Make the most important element easily identifiable
If you only take away a few things from this article, take this: the most important element on your website or web page should be the most easily identifiable one.
Whether you use colors, different fonts, or shapes to highlight the most important section or element is up to your personal preference.
But the best web designs make sure that the moment the visitor lays eyes on your website, they are drawn to the most important bits of information automatically.
Unsure how to identify the most important sections of your web design? Use heat mapping tools to understand which sections on your page draw the most eyeballs, and adjust your design accordingly.
What are the elements of good website design?
The best website design will deliver a positive impact for your brand, with a website that is both pleasing to the eye and is user-friendly.
High-quality designs for website and mobile will help your brand to gain customer trust as it is a sign of professionalism. In this day and age, having a low-standard design for website or mobile platforms will actively damage your brand – it would be better to operate through social media than through a low-quality website.
Websites' design is about so much more than looks. It must consider functionality, target audience, space for blog posts, user interface, color palette, marketing tools, and so much more.
That's why developing a good web design is not as easy as it sounds. There are many elements you need to consider when approaching the project:
Website purpose. Your website design and brand mission must align. Take design inspiration from your core brand values. Allow the design to tell your story to clients from the first moment.
Simplicity. Simplicity is a big one in terms of website design inspiration in 2022. More and more designers agree that the best website design is clean, clear, and won't overwhelm your client
Content placement. Users tend to scan websites in an "F-shape." Your design should take account of this and other ideas of visual hierarchy to improve readability and place the best website content in the places it is most likely to be noticed.
Navigation. It doesn't matter how many beautiful website design ideas your brand is considering if the website is hard to use. Always ensure that your website design offers simple, seamless navigation for clients.
Device compatibility. Your website design must be responsive on mobile devices. Mobile devices account for over half of all traffic in 2022. It could be a good idea to find web design inspiration on mobile-first platforms.
Analyze the search log. Search log analysis helps designers empathize with clients. Log data shows visitors struggling to find what they need. It is vital information in improving website design as it represents frequently encountered problems.
If you want to see some real-life web design inspiration, check out how people used Zyro to make their dreams a reality.