Musician website builder
Get a website that strikes the right chord with your listeners.
Get started
Showcase your music and build your fan base. Build a website today.
A website for musicians
Create a website that rocks
Smooth like jazz or bold and daring like rap? Whatever your genre, you'll find the perfect look with Zyro's professional templates.
Music website builder
Customize to showcase your best
Upload your music and video material to your music website to put on a real show. Customize the rest. No coding skills or downloads needed.
Connect with fans
Engage a bigger audience
You won't be able to make it big without the help of others. We've integrated social media networks to Zyro, so people can easily share your work with the world.
Ssl encryption
Safe and sound
Every Zyro website gets a free SSL certificate. Take full control over your personal data and privacy settings too. Easy to set up and safe to run.
24/7 support
We're here for you
You've got enough on your mind. Zyro's customer support team is available day and night to help you troubleshoot and solve issues.
Outstanding templates
Pick a music website template to match your sound
We couldn't find an exact match
All Zyro templates are fully customizable. You can add any feature to any template you like. Learn more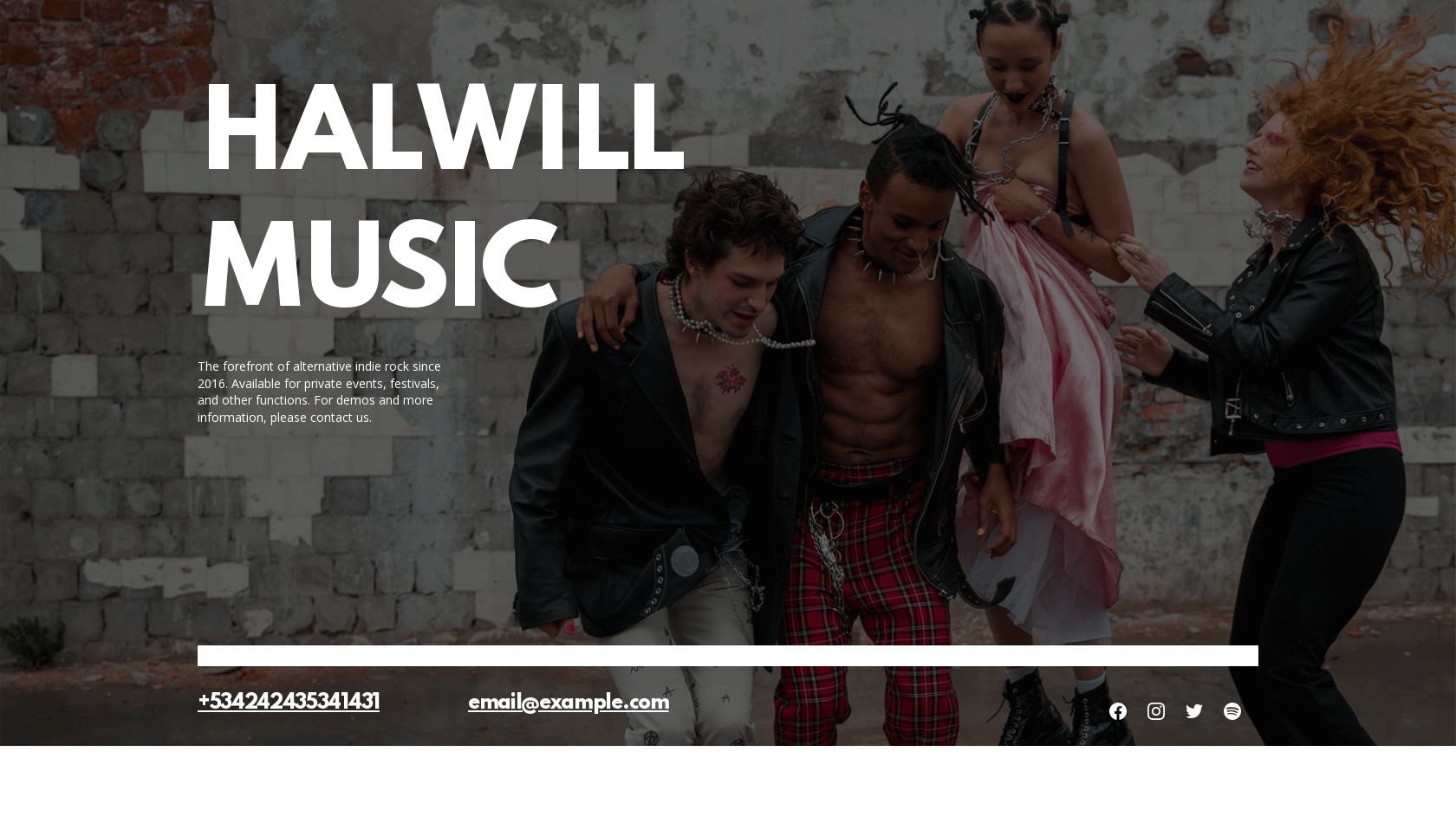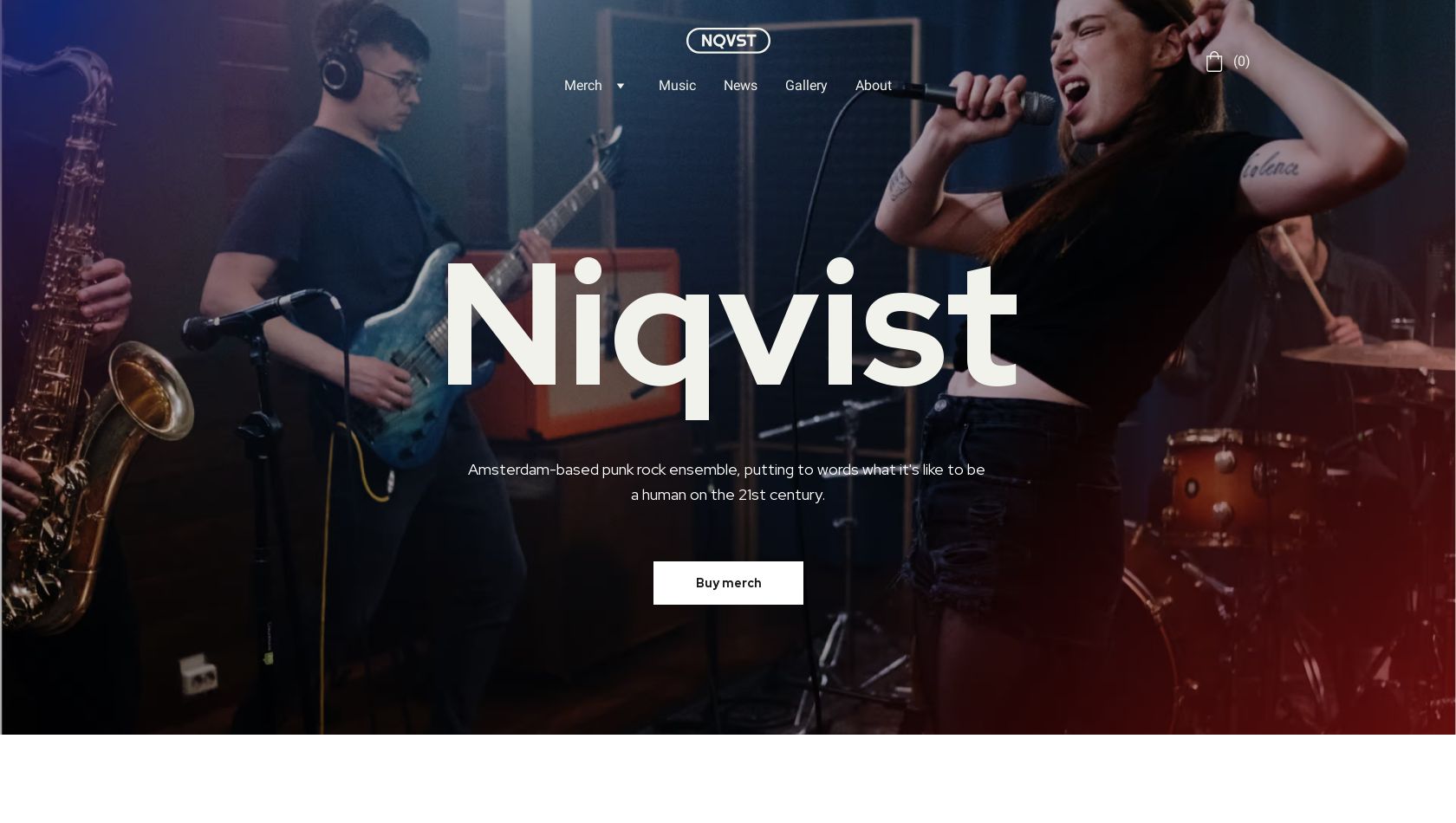 Here's how you create a music website with Zyro
We've made it incredibly easy to get a music website.
1. Sign in or join Zyro

The registration is quick and no card is required.

2. Choose a template

We've got dozens of music website templates.

3. Customize

Make your music shine by uploading songs and videos. Simply use our drag-and-drop builder.

4. Publish your website

Reach a bigger audience right away.

5. Go pro

Consider upgrading to a premium plan for more customization opportunities.
A music website for everyone's needs
Band website

Announce tour dates, take bookings for events and share your albums with fans.

Musician website

Share your music online and spread it far and wide. Start a website.

Music producer website

Even if you produce elevator music, you can stand out with a beautiful website.
FAQs about musician website builder
Are you asking yourself why every musician and band should have a website? It's simple.

If you have a website that you can use as a centralized hub to showcase, talk about, sell and promote your music, you're stepping into the professional world of music production.

And if you're just recording EPs in your mother's basement with no online presence to show yourself off, you'll be classed a hobbyist, no matter how hard you try to break into the pro scene.

Every brand and business needs a website nowadays, and a musician or a band is no different.

Here are some of the things that you should do to build a good band or a musician website.

First, you need to make sure that your template and website layout are simple enough not to be distracting. Your music needs to shine.

Second, make sure SEO and responsiveness are both taken care of. It's a no-brainer – people need to be able to find you online and check you out on their mobile too.

Third, feature only your best work. You've got a few seconds to make a good first impression and you need to put your best work front and center.

Finally, get yourself a custom domain . A free domain is fine when you're just starting out. But once you start gaining traction, you don't need any other brand to be associated with your brand.

Producing music is just the first step. You need to promote it endlessly to stand a chance of being heard.

After you create a music website, you are much more likely to get discovered.

Upload your music, videos, upcoming event dates, interact with fans and much more – all on your newly designed professional website.

We know that musicians and bands that are just starting out are strapped for cash. The good news is: a great-looking music website doesn't have to cost you an arm and a leg.

You can create a Zyro website for just a few dollars a month. You'll get hosting, a domain, an SSL certificate, and access to all of our tools.

And when you're able to upgrade, you should check out our premium plans.

If you want more customization options, more storage or bandwidth, these plans offer great bang for your buck.

Sorry, but you can't sell your music on a Zyro website at the moment.

For the time being, we recommend that you link to and associate your website with your iTunes and Spotify profiles, so that people can go and purchase your music there.